inform blog
AIRLINE FORUM 2017 A SUCCESS!
11/08/2017 Luis Alvarez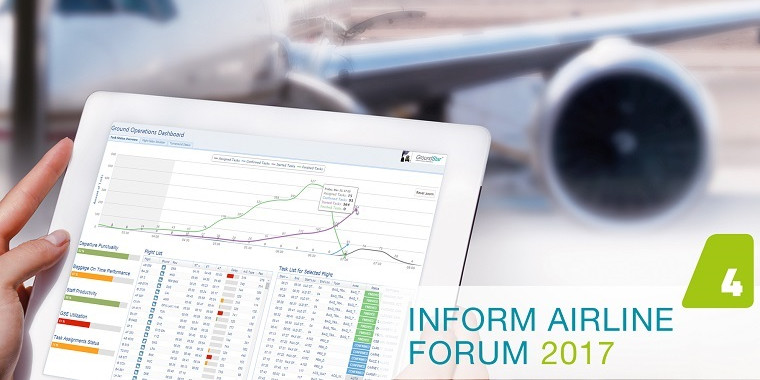 Shortly after hurricane Irma's roaring winds passed over Atlanta, thirteen of the world's largest airlines met at Atlanta's Marriott Suites Midtown for a full day of discussions on how to improve on time performance hosted by INFORM and Delta.
Every two years, INFORM's Aviation Division organizes an exclusive event reserved for INFORM's GroundStar customers. GroundStar is a suite of solutions and products designed to plan, manage and optimize a wide series of airline, airport and ground processes. The series of events, named the "Airline Forum", brings together airline staff and experts from around the world to share their views and experience on issues that matter.
I had the honor to moderate this year's event where we focused on on time performance and the role ground operations have in improving it. We looked at machine learning and how airlines can use it to forecast delays and other irregularities better. We learned about Delta's Atlanta Hub and how it is perfecting the art of an efficient turnaround. It was enriching for me to see how the work we do at INFORM really has a positive impact on our customers.
An Introduction to On Time Performance
To better grasp the importance of on time performance, I kicked off the conference with a brief introduction to "On Time Performance (OTP)", how it is measured and why it is important.
On time performance is a fundamental metric in the aviation world. A nice and simple definition follows: "On Time Performance represents the number of flights on-time as a percentage of the number of flights operating on a given sector".
Generally, a flight is considered on time if it leaves the gate within 15 minutes of its scheduled departure time. Alternatively, a flight can also be considered as on time if it arrives at its destination gate within 15 minutes of its scheduled arrival.
Why is OTP important?
A good on time performance is first and foremost important for an airline's passengers. Nobody wants to arrive late when joining loved ones or when attending a business meeting. Passengers often have onward travel plans with trains, buses or subways. Arriving late only disrupts their plans.
But on time performance is not only important for passengers. The airline industry is a complex system with many players involved. All players agree to a target schedule and plan to fulfill it. When one player falls out of line, everybody else is affected and costs trickle through the system.
No one-size-fits-all solution to improve OTP
When speaking about OTP, it was important for me to highlight that there is no one-size-fits-all solution to improving on time performance. Each airline is different, operates under different conditions and follows different goals. Based on these differences, each airline will find a unique and individual solution.
We all agreed that a good starting point to improving OTP is to start measuring each link in the turnaround chain. If you measure you can understand, and if you understand you can improve. I'd like to share with you the highlights of the day and the most important takeaways.
Tips to improve your turnaround times
Throughout the day speakers shared their experience on how best to improve aircraft turnaround times. If I summarized all the points made throughout the day, these would be the top tips to follow:
Have all stakeholders involved in the turnaround
Define common goals
Evaluate each step with the teams
Achieve speed improvements on each process
Measure activities and produce data points for analysis
Practice, practice, practice!
Continuous improvement through monitoring
Think about it in the same way as Formula One teams do at their pit stops.
OTP improvement begins with good planning
The Airline Forum 2017 also presented three excellent talks on the advantages of good planning and how it impacts on time performance. The presentations emphasized the benefits achieved by improving the medium and long term planning of staff and resources.
One strategy involves centralizing the complete airline's staff and resource planning. Instead of having a team at each station with their own software, expertise and rules, it is better to have one central planning headquarters for all stations. By having all planning in one place, it ensures that expertise is shared quickly amongst the key planners.
Planners overseeing the complete airline will quickly identify where resources are needed and where they are redundant. Therefore, shifting resources to where they are needed most, improving productivity and equipment utilization. One customer reported saving hundreds of thousands of dollars by detecting and moving redundant equipment from one station to another, instead of buying new equipment.
Machine learning as a tool to improve operations
Machine learning was an important topic at this year's Airline Forum. A SITA Survey found that 80% of airlines are planning to invest in artificial intelligence technologies for better prediction and warning.
The Airline Forum organized a panel consisting of customers and INFORM representatives to discuss how machine learning can improve airline and airport operations. Various of the GroundStar customers present at the event raised their hands when asked whose airlines are already investing in machine learning.
One of the interesting use cases discussed covered the use of machine learning to predict the correct amount of catering to be loaded on a flight, based on many different factors. Another use case was to use machine learning to identify which individual pieces of baggage were at risk of being unloaded, ensuring loaders kept them off the aircraft until 100% sure they were to be boarded.
INFORM's Product Manager Business Intelligence Solutions Jann Pehle and Chief Technology Officer Ekkehart Vetter, explained the various aspects of using machine learning to predict delays better. The potential of such algorithms in proactively forecasting delays throughout the network and at each station opens up the ability to be more proactive.
See you at the User Conference 2018!
For me it was a great day. I very much enjoyed being on stage and listening up front on all topics. We had a great mix of people and we were very happy with the feedback we received. Participants had a productive and enjoyable Airline Forum!
I am already looking forward to next year's big event, the User Conference 2018, where we will be inviting all our aviation customers: airlines, airports and ground handlers! I hope I'll once again be able to moderate the event!