Syncrosupply
SYNCROSUPPLY FOR EFFICIENT YARD DECISIONS
SYNCROSUPPLY allows you to plan and control your yard processes thoroughly and effectively - from booking time slots on our platform, to truck arrivals, to loading and unloading at the terminal.
With the software, you can always see the real logistical situation in the yard, react quickly to unforeseen events, and make optimal decisions.
REal-time optimiZation in day-to-day operations
Transparency in the supply chain
More efficient resource planning
Smoothing of peak times
Uniform usage of loading points
Reduction of waiting and turnaround times
Automated communication
smart yard Processes
Efficient yard decisions are crucial for optimizing plant logistics. SYNCROSUPPLY gives you a clear overview of what is happening in the yard. By automating routine decisions, you will have more time for continuous process optimization.
syncrosupply extensions
MATERIAL AND TRANSPORT MANAGEMENT
Material deliveries and/or transports are received directly from the ERP system. This allows the material to be linked to the delivery or shipment for maximum transparency.
API INTERFACE
A standard http interface for connecting to third party systems, such as an ERP system.
ENTRY MODULE
The entry module allows SYNCROSUPPLY to communicate with hardware control systems at the factory entrance, such as barriers, QR code scanners, displays for truck call-offs, etc.
TRUCK APP
The smartphone app is used for real-time communication with drivers, GPS tracking and quick check-in when required. This not only makes it possible to call up a truck at any time at the touch of a button, but also makes it easier to communicate information about last-minute changes to drivers.
TRUCK RADAR
In addition to displaying the factory map, this screen also shows the journeys approaching the factory using GPS coordinates. This can be used to determine the distance to the factory, the estimated time of arrival or any delays in the journey.
TRAILER YARD
The mapping of yard processes in SYNCROSUPPLY enables the control of tractor units and the planning of loading point windows for loading or unloading trailers.
quick start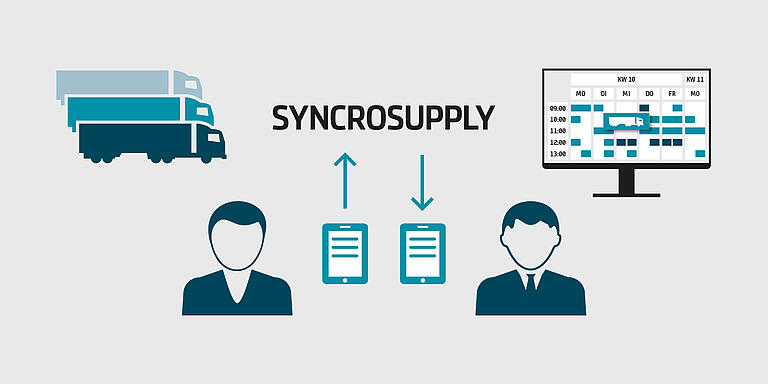 We offer you the standard edition of SYNCROSUPPLY 30 days free of charge for testing.
Start directly with your own master data. If SYNCROSUPPLY proves itself, then simply continue to use it. The test system becomes a live system.
You have additional requirements. We offer you further editions and extensions.