Inform blog
new car logistics -
when cars are travelling
08/11/2015 Luisa Walendy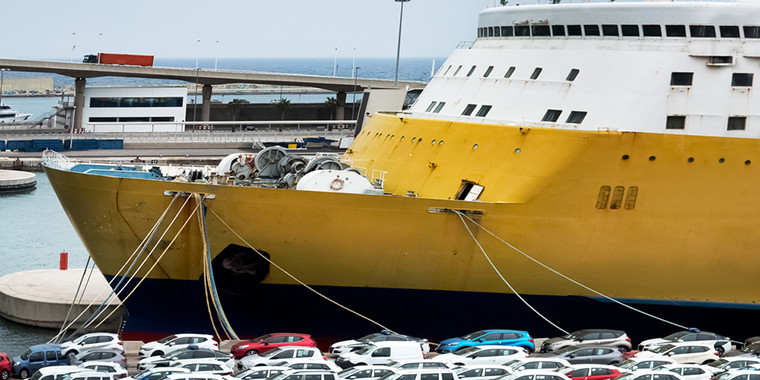 Puebla, Veracruz, Antwerp, Emden? What a route! But this is not the extraordinary pyramid tour of Dutch emigrants, but the exemplary distribution chain of German new cars. It is not unusual for a car to have travelled more than 10,000 kilometres without having been driven.
This is because new car logistics are based on sophisticated planning processes that allow cars to start their journey straight from the production line. And it doesn't always have to be on tarmac: Shipping or rail transport are commonplace in car transport. Volkswagen, for example, supplies European and North and South American dealers from Mexico. Ford ships its new cars from Cologne via the Dutch and Belgian seaports of Antwerp and Vlissingen to destinations all over the world.
But experience shows that on such a long journey, delays can occur. Who hasn't experienced it? The flight is delayed, the train is cancelled or you have forgotten something at home. In new car logistics, too, unexpected events such as delays or damage to the vehicle have to be taken into account as quickly as possible. This is why all processes are controlled in real time so that all decisions and transport routes can be optimally coordinated. Tracking the vehicles creates transparency, as the status of each vehicle and information about the delivery can be accessed at any time. This transparency is essential to ensure that the new cars are delivered on time.
Punctuality is a complex challenge in new car logistics
Punctuality is considered a particularly German virtue. But in a global logistics chain, this virtue seems more like a pipe dream. Nevertheless, German car manufacturers such as Ford have set themselves the goal of creating smooth processes in order to be able to hand over new cars to their customers in Germany on time. To achieve this, the transport route has to be kept as short as possible, despite the long journey. Resource efficiency can be achieved by making the best possible use of the capacity of the means of transport. In this way, lead times can be reduced and cost savings achieved.
But how exactly does it work? It all starts at the so-called counting point eight, the end of production: the new car is handed over to logistics. Thanks to intelligent software solutions, all the data about the car can be controlled and coordinated in such a way that the destination, delivery date and model of the car are already known at this point and can be used by the system for planning. But which route should the car take? By truck, train or ship? The decision criteria are the length of the transport route and the capacity utilisation of the means of transport. In addition, each delivery point should only be visited once if possible. It is also important that the new car has already been co-ordinated so that it has the right parking space in the car terminal. Depending on the planned route and means of transport, it should be possible to load it at the right time and in the right order.
If the journey starts in Mexico, as is the case with VW, for example, the cars exported abroad can be shipped to Mexican ports after being transported on asphalt. The planning must also take into account the incoming wagons that arrive in Veracruz or Acapulco in order to combine the import and export processes as efficiently as possible. If the destination is Europe, the cars can then be parked for onward transport halfway around the world at European car transhipment ports with huge car parks for tens of thousands of new cars, such as in Zeebrugge or Antwerp. The question arises again: Where does which vehicle have to park, and when, so that it can be loaded quickly at the right time and in a way that conserves resources?
Companies such as the Belgian transport company International Car Operators, which are responsible for roll-on/roll-off freight, already use modern tools to coordinate their yards and parking spaces in the best possible way. By intelligently controlling the processes at the terminal, it is possible to minimise driving distances, make optimal use of the terminal's capacity and at the same time require few shunting movements. In addition, driver deployment can be optimised.
Conclusion
New car logistics are expensive and very complex. By planning to the day and optimising for each individual car, German car manufacturers' customers can enjoy their cars on time. And the car manufacturers themselves are happy: efficient and punctual handling reduces costs and the number of complaints.
Anyone who has ever bought a new car knows how nice it is to get behind the wheel as soon as possible.
Do you know where your car has been around the world? What aspect of new car logistics fascinates you?