inform blog
3 Ways to Tackle the Driver Shortage in Finished Vehicle Logistics
10/25/2018 Ruud Vossebeld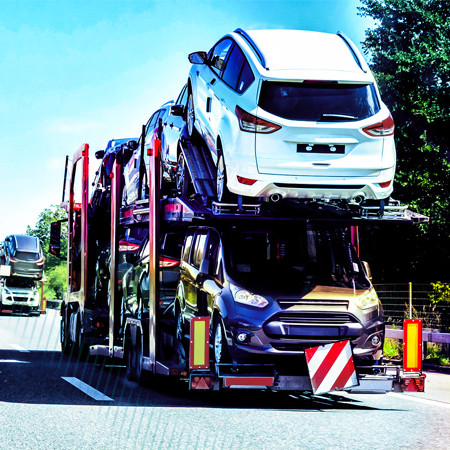 Freight rates in Europe have reached record highs. One reason for the higher cost is the shortage of truck drivers, which is only expected to increase further in the coming years. At the same time, over 450 billion tons-kilometers of goods are transported by road through the European Union every year - which accounts for three quarters of all land freight transport. This trend of increased transport demand and decreased supply of drivers is on the rise. For example, around 30,000 drivers in Germany retire each year, to be replaced by only 2,000 fully trained truck drivers, leaving a gap of 45,000 truckers in this one country alone. This gap will increase sharply in the EU over the next few years as drivers get older. Sweden is already short of 7,000 drivers - and this figure is expected to rise to 50,000 within 10 years. In the UK there is a shortage of around 35,000 truck drivers.
Interim conclusion: The problem of staff shortages can no longer be ignored. In addition to transport needs, the driver shortage affects the entire economy and will perhaps soon affect our everyday lives. Now is therefore the time to look for solutions and alternatives to prevent the European market from future collapse. Trucks play a major role in transportation and Finished Vehicle Logistics; it is crucial for companies to target their logistics operations and processes to tackle this growing issue. A structural solution is needed (pay them more?) but in the meantime how can we transport more cars with less drivers?
1. Increase efficiency at compounds where cars need to be picked up
One approach would be to increase the efficiency of logistics processes so that fewer trucks are needed. An example of very efficient automotive logistics is the Irish vehicle distributor NVD, which has managed to support on-time delivery and shorten customer lead times with intelligent solutions. Optimizing logistic processes has enabled NVD to double its productivity on the yard and they can now load a truck within 45 minutes with 8-10 cars (there are examples in Europe where this takes more than 3 hours). This year the project received the Automotive Logistics Award in the Finished Vehicle Logistics High Performance category.
Why are there still locations elsewhere where trucks are waiting for more than 2 hours for picking up goods or making deliveries? Additionally, waiting trucks need a place to park, taking up a significant amount of space on the yard
The bitter reality on most car compounds is that:
There is a universal lack of attention to the needs of the driver.
Some people believe that the costs for drivers out of Eastern Europe are so low that lost time in the yard and low vehicle availability isn't a cause for concern.
Cost of trucks, fuel and the shortage of drivers are not considered in planning.
Real- time technology is not being applied to get better synchronization between incoming trucks and goods to be picked up.
2. Create Visibility for Incoming Car Trailers
A common reason for long truck waiting times is that drivers waste time in trying to find the right cars in the compound. Drivers also need to work themselves on the load planning, which can be a mathematical puzzle to solve considering priority vehicles, destinations and maximizing efficiency of the trip and the load.
Would it not help if this puzzle is solved beforehand and the cars are pre-parked so that no expensive time is lost in the loading process itself?
Besides time lost in the compound, the truck also often has to wait for other trucks in the line or at the gate. Today solutions like E-Gate and appointment systems are available to help reduce this waiting time by at least 50%. These solutions in combination with seeing an incoming truck (similarly to an Uber taxi coming to you) can create a Just-In-Time pick up process assuming that others support in pre parking an hour before truck arrival. This JIT approach can also help to reduce the space needed for pre parking cars. The time buffer can be reduced from days to hours.
3. Decrease Congestion During Peak Times
Dynamic planning is essential for smooth processes at the yards. Intelligent planning systems make it possible to plan arrivals and departures at the yard more effectively and to flexibly plan for unexpected conditions such as repairs or modifications to the cars. Truck arrivals and collections could thus be distributed evenly throughout the day preventing the buildup of long lines during peak times at the compound. To be able to plan ahead, it makes sense to include upstream and downstream processes in the planning. For example, Geo fencing technology offers a lot of potential for foresighted planning. Geo fencing refers to creating virtual geographic boundaries, triggering an automatic response when a device crosses a boundary.
Audi has a project called "Quick Check In", at its facilities in Ingolstadt, Germany. The check-in of trucks at the factory is automated. Here, a technology for checking the position of arriving trucks and the Audi control system are combined for the delivery of inbound material. The arrival of the trucks can be tracked via Geo fencing at three distance points. The drivers scan the delivery with their smartphone when they pick it up; then when the truck is 50 km away from Ingolstadt, the app communicates with Audi's IT system. At this point, the car manufacturer can already see whether the truck is on time and decide whether the delivery and production are going according to plan or not. Further measurements will be made as soon as the truck is 20 km away and again at the 3 km mark. When the truck is running on schedule at the 3 km mark, the internal status of the material is automatically switched from "on the road" to "at the plant". Then the truck does not have to go through the arrival process and can drive directly to the unloading point in the plant or logistics center. This process helped Audi to reduce average waiting time by 30 minutes per truck.
Closing Thoughts
The shortage of truck drivers is a problem for the economy, as well as logistics and manufacturing companies. Finished Vehicle Logistics is certainly feeling the impact. Long truck waiting times have become part of the daily routine in Europe. Nevertheless, there are many efforts to reduce these times and efficiently utilize the depleted driver resources. In addition, shorter waiting times could also make the truck driver profession more attractive again.
What are your thoughts: How can Finished Vehicle Logistics be managed with less drivers in the coming years and where can efficiency improvements help?
If you are interested in finding out more on this topic, read the complete NVD case study.