inform blog
HOW GEO FENCING CAN IMPROVE TRUCK "PIT STOPS"
04/13/2016 Ruud Vossebeld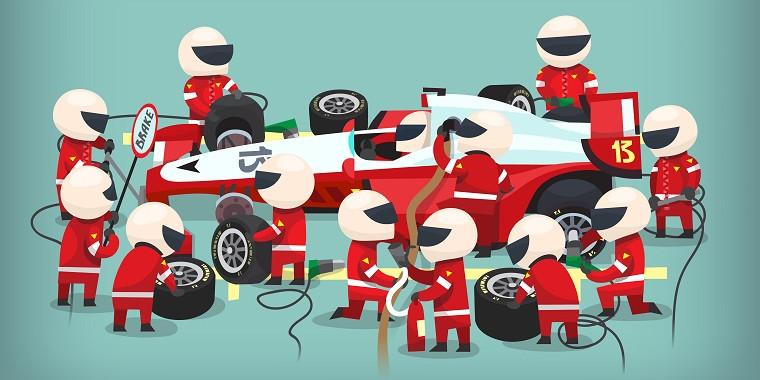 When thinking of Formula 1 racing, the first thought anyone has is usually about speed. In this motorsport a tenth of a second can make all the difference. This was the case a few weeks ago when the Belgian-Dutch Formula 1 driver, Max Verstappen, had a slow pit stop during the Australian Grand Prix which ultimately led to him finish in 10th place. Although the opinions about the reasons for Verstappen´s drop in the race were different, the driver was clearly frustrated and placed the blame on his team. According to Verstappen, his disappointing position was the result of bringing in his teammate, Sainz, for the final pit stop before himself. In Verstappen´s opinion, Sainz was able to move ahead of him during their final pit stops.
In Formula 1, the pit stop serves as the station for changing tires, repairs, mechanical adjustments, a driver change or as a penalty. The "pit crew" is tasked with accomplishing these changes and adjustments not within minutes, but in a matter of seconds. In 2010 a refueling ban was implemented in Formula 1 racing which decreased pit stop times from between 7 and 8 seconds – depending on how much was refueled – to less than 2 seconds – just changing the tires. The current unofficial record for a pit stop is 1.85 seconds. A typical spectator needs this amount of time for a deep breath. With such close competition in Formula 1, pit stops definitely influence the outcome of a race.
Although the timeframe in logistics is a little different, time is crucial, too. In truck supply control, for example, the different sites supplied by the trucks can be referred to as the "truck´s pit stops". Here, the goal is to process the trucks as fast as possible at the gate and the loading bays. Though these "pit stops" last longer than 1.8 seconds, every minute counts in the truck supply control process. Just like in Formula 1, drivers also get frustrated when processing takes longer than usual and they must wait upwards of 15-30 minutes until they are finished. The plants are supposed to recognize the trucks immediately when entering the gate, but often the planning is not flexible enough to react to changes. Manufacturers, distribution centers and shippers have to handle a few challenges for the trouble-free management of their approaching trucks. These challenges include trucks that do not show up as planned, loading bays and resources which are underutilized, as well as production problems which are caused by delayed supply. Therefore, a more dynamic approach to planning would not only help ensure trouble-free truck processing, but also increase the number of daily stops possible per truck.
Technology tracks trucks on the go
Wouldn´t it be logical to detect the trucks before they enter the site instead of starting the process afterwards? If you answered "Yes" then you are correct. And there is already technology out there which has been proven to be successful: Geo Fencing. The location-based mobile service enables trucks to send automatic messages to the targeted site as soon as they enter a geographic area defined via GPS. These geo fences allow you to better track the delivery trucks as they come in and out of the plant. By knowing when a truck enters a defined area – for instance 3 or 5 kilometers distance to the plant – planners can resolve any disputes regarding disruptions in the truck supply control. Moreover, the technology allows controlling all truck deliveries easily via app.
Geo fencing addresses the above problems of manufacturers, distribution centers and shippers early enough and points out potential improvements in the entire process of the truck supply. Aside from the real-time visibility of all trucks for all participating parties due to GPS-tracking as a major benefit of geo fencing, other benefits include:
An increase in flexibility for rescheduling and planning,
Higher utilization of loading bays,
Elimination of paperwork and the time-intensive manual check-in process,
Reduced cycle times and optimized planning.
Additionally, the onboard telematics enable insight into the driving patterns of each truck in the fleet. The collected data, for example idle time, can be used by fleet operators for further optimized processes. By making data-based decisions, the haulers can react to the growing competition in the transportation market and improve competing factors, for example fuel efficiency.
Closing thoughts
Speeding up processes is always a major goal within the logistics industry as idle time often results in wasting money and resources. Geo fencing helps minimize costs and optimize resource utilization. The alert, triggered when a truck enters the virtual barriers a certain distance away from the targeted plant, allows for more intelligent planning. In Formula 1, extended pit stops can frustrate drivers, just as inefficient planning does in the truck supply control world. Although logistics processes can at least be scheduled in a timeframe of minutes or even hours, it is still complex planning that can be vastly simplified and automated by the use of virtual fences.
In conclusion, it is crucial in Formula 1 to have an optimized strategy for how many stops to make and when to make them. The truck supply control is not a race, but an intelligent planning system supported by geo fences can help reduce costs and save time. So why not get more time to take a deep breath while leaving the planning to intelligent systems instead of struggling with under-utilized resources and high costs?
What do you think of the potential of geo fencing in truck supply control? Do you already have experience with these systems?
---------------------------------
This blog was originally posted on the All Things Supply Chain Optimization blog.