inform blog
Event Review: Networking at its Best
10/27/2022 Tyrone Castelanelli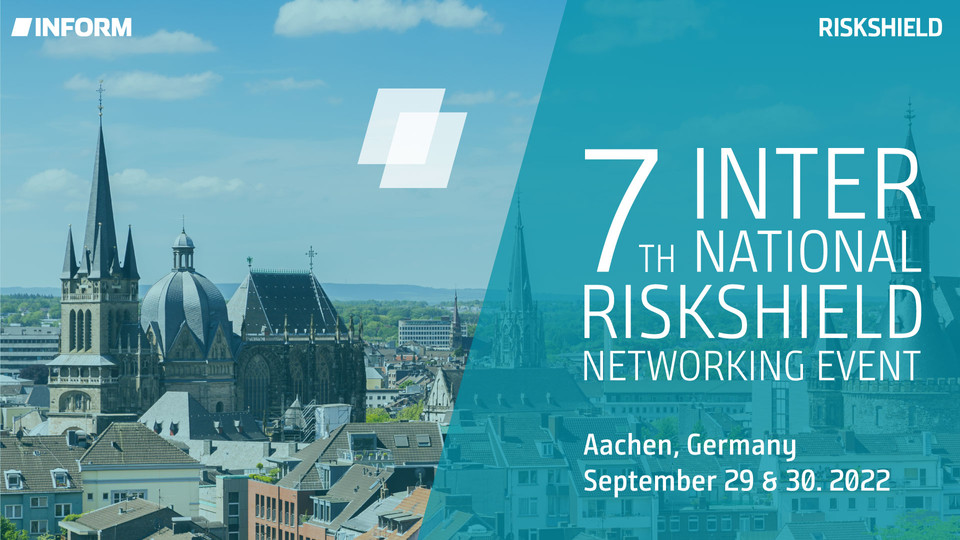 At the end of September 2022, the INFORM Risk & Fraud Department invited its customers and partners to its 7th International RiskShield Networking Event. Coming back to the roots of the very first event in 2013, 130 RiskShield Users and experts gathered at the Quellenhof Hotel in Aachen to exchange their expertise, their views on current trends, and, most importantly, to network.
Seeing each other face to face, was the most excellent highlight of the two-day event. Whether attending for the first time or as a "regular," all our guests relished the chance to meet the community in person again. This became most apparent during any of the breaks: the facilities were almost instantaneously filled with the rising noise of conversation … which was very difficult to interrupt at the resumption of our program.
What was the motivation for this event?
As with any of our previous six networking events and our Digital Days during the pandemic, one of the main motivations was to deliver the answers to the most crucial questions that engage us in our daily work, some of which include:
What is the definition of financial crime, and in what forms does it come?
How do we define risk?
What tools and methods do we offer with our solution to address risk and fraud?
What aspects do we need to consider addressing regulations?
How do Artificial Intelligence and Machine Learning aid us in our quest?
Always the same in all nine years, you may ask. Referring to Einstein's habit of repeatedly challenging his students with the same problems in his physics exams, our moderator nicely quoted the famous scientist by saying, "the questions are the same, but the answers have changed."
Especially looking at the past three years, this could not be more true. There is no doubt that the world has changed more rapidly than usual in this period of time. Especially the pandemic has overturned many an aspect of our socioeconomic ecosystem. Never before has digitalization experienced such a substantial push, setting new requirements for how society interacts and transacts throughout various industries.
Most notably, e-commerce has experienced unprecedented growth through increased digitalized processes. According to a report by McKinsey, e-commerce has grown up to five times faster than before the outbreak of Covid-19. The soaring demand for digitalization and online transactions naturally influenced the Risk & Fraud focus industries, namely banking and finance, insurance, and telecommunications. Customer behaviors changed, and new requirements needed to be considered to the point that new regulations were implemented.
In addition, new technological opportunities and frameworks offer equally new playing grounds for criminals. As stated in our recent white paper "How to Reduce Risk as Payments Transform," FinXtra estimates payments fraud to have risen by 35% in only two years. With all these changes in mind, we at the Risk & Fraud division believed it was time to reconnect with our community – to listen to their pains and insights, to view things from a different perspective, and to reassure priorities. In short: "Time to Redefine Financial Crime."
With this motto in mind, the presentations and the networking aimed at discovering what the past few years have meant for our business environment and what needs to be in place to collaborate for a sustainable business and a shared future.
Program in a nutshell
This approach was reflected in our agenda. The first day set the ground for reconnecting and looking at the status quo. After a company update on our behalf, customer presentations showed how RiskShield is being implemented in various scenarios with different customers. To round off the day's program and build a bridge between the past, present, and future, our Product Management Team gave concrete insights into the development of our solution portfolio: what developments have we seen in the recent years and what is "on the radar" for the coming years.
Picking up on this momentum, day two "peeked into the future," discussing challenges and chances that come with Artificial Intelligence – from machine learning models to the human factor in AI-controlled ethical decisioning. Having so many guests at our event in person – 130 delegates from 14 countries on 4 continents – we did not want to neglect the opportunity to "pick their brains." In an interactive workshop, we asked for their opinion and insights into such topics as RiskShield-as-a-Service, Graph AI, cryptocurrency, and the general question of what issues occupy their everyday agendas in the field of financial crime.
Concluding the event, we offered our guests two deep-dive sessions on two different use cases in which RiskShield can be employed: while the AML session demonstrated the full breadth of our solution in the field of compliance, the presentation on customer satisfaction gave witness to a relatively new use case of RiskShield. So far, this approach has been predominantly used in the telecommunications sector but is open for implementation in any other field of our business.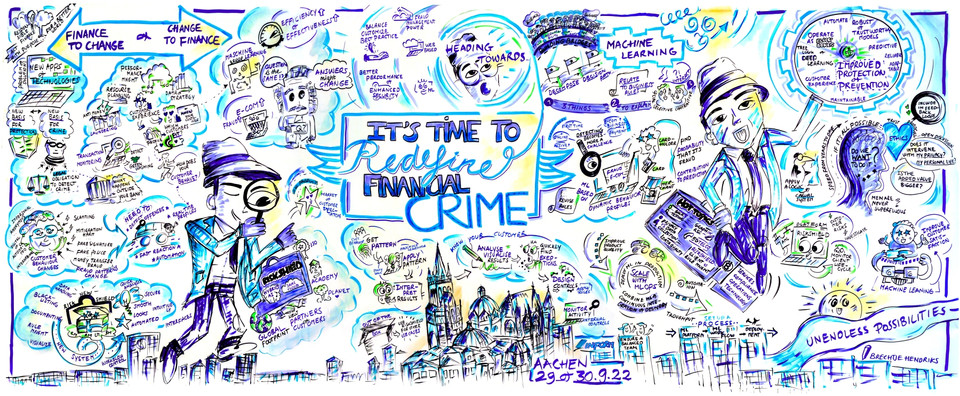 With this all-encompassing graphical recording, Brechtje Hendriks captured all topic contents of the two event days in an impressive illustrative manner and thus created a visual protocol for INFORM and all its guests.
Bottom line
We all agree that the event was a success regardless of whom we spoke to – customers, partners, colleagues, or presenters. But what does success mean in the context of such an event? Easy: it means that the gathering was insightful, strengthened existing bonds and generated new ones, gave us at INFORM an excellent chance to hear the voice of our customers, and possibly even inspired one or the other guest to try a new approach to their daily business using our crime-fighting software RiskShield. In short, the event's title holds true to its promise: Networking to foster relationships within our community.
Having said this much, we once more thank all our guests for coming from near and far and look forward to seeing you again at the next event.
PS: you are new to the community and have not had the opportunity to participate in one of our events, but you would very much like to? Then let us know your interest by dropping an e-mail to: riskshield@inform-software.com.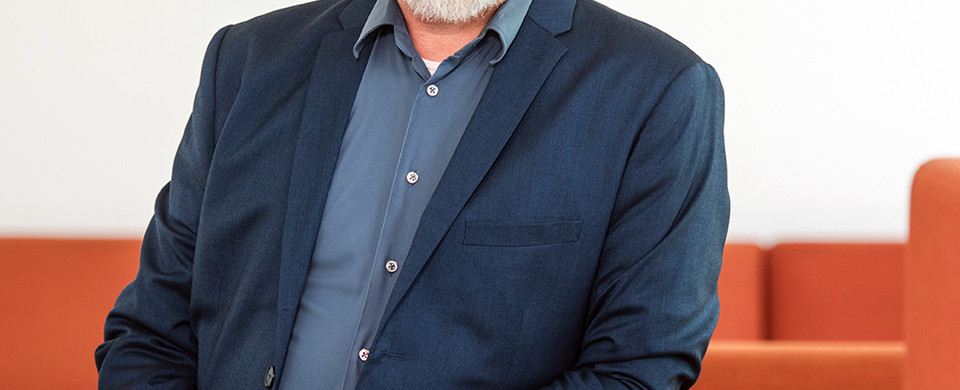 Tyrone Castelanelli
Tyrone Castelanelli has been with INFORM since April 2022, and is reponsible for the marketing activities at the Risk & Fraud division. Tyrone has specialized in marketing communications management, with experience of over 15 years in three tech companies.