inform blog
COVID-19: HOW TO MANAGE AN AUTOMOTIVE SUPPLY CHAIN DURING A CRISIS?
11/05/2020 Ruud Vossebeld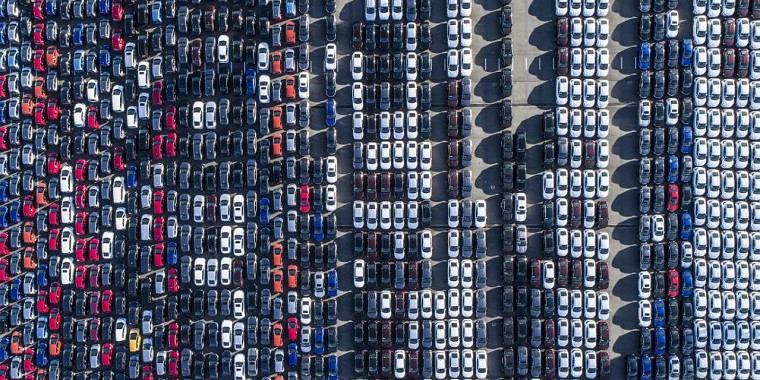 In recent weeks, the companies in automotive logistics I work with have experienced drastic changes in their daily work. Due to the coronavirus crisis, automobile manufacturers, port operators and car carriers are seeing drastic changes in the industry. This has led to new and different decision-making processes to try and deal with the unknown.
Where are we now?
Car manufacturers: Factories have had to be shut down as a result of staff shortages and critical suppliers halting production. Dealerships have also closed either because the country has completely shut down production or because HR and fleet managers are reluctant to buy cars until there is more clarity about what happens after the crisis.
Port operators: Due to the long lead times between factories and other continents, several ships were already on route at the beginning of the crisis and are currently attempting to enter the destination ports. However, as ports currently have less capacity (e.g. workers must keep their distance in buses in the port and drivers have gone home sick), it takes longer to unload and load ships. In addition, ports accept ships, which want to unload, but distribution to dealers has suddenly stopped. This could be due to temporary dealer closures; the dealers having run out of space in their parking lots or that sales have fallen dramatically.
Car transporters: The volume of car transporters has fallen drastically. The main activity is to help port operators and car manufacturers to transport cars to places where they can be temporarily parked because the port itself has already reached its full capacity. Now the logistic players have to wait and see when and how the supply chain will get moving again.
What can we expect next?
Several forecasting institutes have come up with indications as to what may happen next.
ICDP (www.icdp.net) is talking about 3 possible scenarios:
V shaped recovery
U shaped recovery
L shaped recovery
The V-shaped recovery seems to be what is currently happening in China (fast economic downturn in a matter of a few weeks and then a fast recovery in just a few weeks), the U-shape looks more like a typical financial crisis (it takes months to hit bottom and it takes a few months to come out), while the L-shape recovery is a scenario where the economy has basically been rebalanced and it takes many years for volumes to reach record highs.
According to the ICDP, in Europe and the US, it looks more realistic that either of the last two scenarios will occur, considering that the coronavirus crisis could be followed by an economic crisis in many countries.
However, much will also depend on the financial incentives created per country to help businesses stay alive and recover early rather than late. Since several countries had prosperous years before the crisis, there may be a generous stimulus in many markets.
Frost & Sullivan has come up with a forecast in April 2020 for the global automotive market. They have forecasted a decline of 25% overall in 2020 and that the industry won't reach record levels again until the earliest 2025.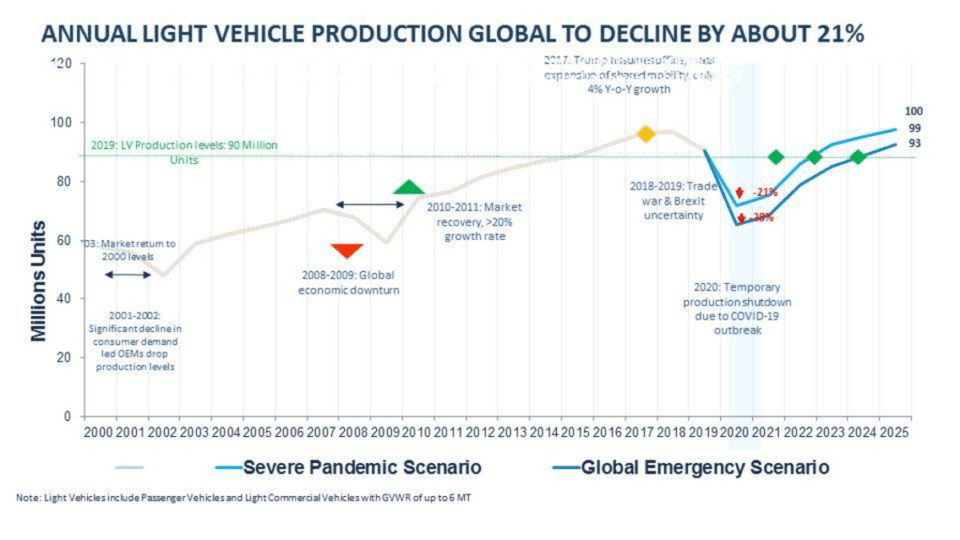 Annual light vehicle production to decline. Source: FROST & SULLIVAN
The question here will be how this will affect the various individual markets.
Questions for the experts are:
How will the individual markets develop in the coming months?
What is the most optimistic and what is the most pessimistic scenario?
How can companies in the automotive supply chain act in the coming months?
As the Coronavirus crisis is seen as a major disruption to the supply chain, global automotive manufacturers need to work on multiple production and sales scenarios per country/factory and need to ensure that all the latest information, which is changing on daily basis, is incorporated into the S&OP process. A demand planning solution would be helpful in a situation such as this, to understand the situation for each individual country, region and fleet customer. The next step would be to model the scenarios in a network optimization solution to see which transport alternatives are best to consider based on the speed and phase of rescaling operations. It is possible that trucks may be needed for transport at the beginning, while later on trains or ships will become ideal again when the volume is high enough.
In the meantime, car manufacturers need to understand port capacity. Some ports are full because some dealers are having problems getting the cars, even after they have lifted the blockade. While the port is not usually used as a buffer space, these dealers have to ask the ports to keep the cars in the port for longer. This may be because either the dealers still have too much stock and no space at all or have got into financial difficulties due to the coronavirus crisis.
Tools for demand planning and network optimization are ideal nowadays, but I can imagine that car manufacturers, port operators and car carriers have developed or are developing some interesting planning tools (Excel based?) for this situation as well.
How does your company plan the sale/production/transportation/space during Coronavirus?
One of the companies offering solutions for demand planning and network optimization to model different scenarios is INFORM. INFORM tools can speed up the analysis and decision making process in such crisis situation based on its hybrid AI/OR toolset.
However, we know and understand that not everyone uses advanced tools, but would like to learn how your company is planning in case of a crisis.
Some questions for you:
What do you expect from the tool to steer you through this crisis situation?
Have you found or developed a tool that is best suited for the current situation?
Are there lessons that you can share which may help others best deal with these difficult times?
Are there collaborative efforts that can help others in these difficult times?
We wish you all the best and stay safe and I hope to see you face to face in better times.
This blog was originally published on the All Things Supply Chain Blog.