inform blog
INTERMODAL TERMINAL OPERATIONS: A TALE OF TWO TERMINALS
02/26/2021 Matthew Wittemeier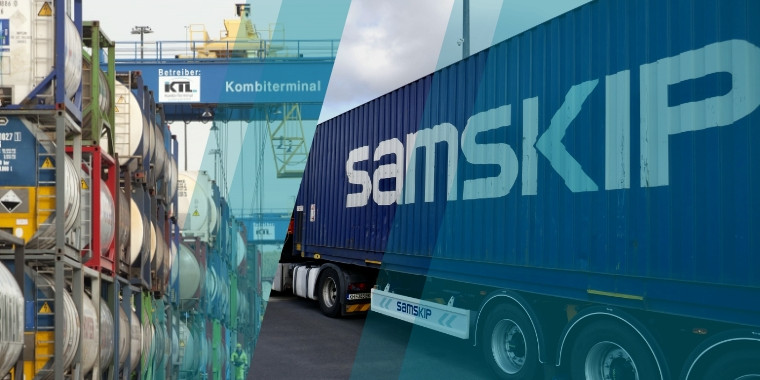 Everything is easier with the right tools, and intermodal terminal operations are certainly no exception. The right terminal operating system makes the difference between average and industry-leading efficiency, productivity, and growth.
For examples, take Samskip and KTL. Both were founded in the 1990s and quickly established themselves in the logistics industry, enjoying rapid growth. Both also adopted ambitious expansion plans that required a more capable and innovative terminal operating system (TOS). INFORM rose to these occasions with an unparalleled solution empowering the two intermodal operators to meet their goals and embrace the future.
Growing Terminals
KTL
KTL's Kombi-Terminal is an intermodal terminal within BASF's chemical complex in Ludwigshafen (Germany) offering road/rail, rail/rail, and rail/road transshipment services for all common European tank containers, box containers, swap bodies, and semi-trailers.
The terminal is owned by BASF and operated by KTL Kombi-Terminal Ludwigshafen GmbH. Its shareholders include European heavyweights in the intermodal arena: Bertschi and Hupac (both from Switzerland) as well as Hoyer and Kombiverkehr (Germany).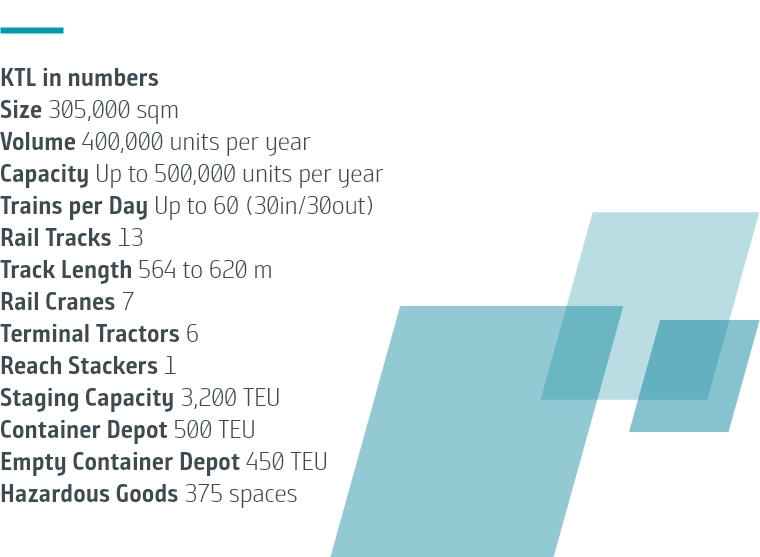 Samskip
Samskip was founded in Iceland and quickly grew from a local shipping company to a global logistics company offering transport and related services by land, sea, rail, and air with a particular focus on cost-efficient, reliable, and environmentally friendly transport. Recently, its multimodal division set the new standard for highly efficient, intermodal terminal operations.
Samskip van Dieren Multimodal operates its own intermodal terminal in the Port of Duisburg, Germany. The Port of Duisburg is the world's largest inland port and located in the heart of Europe's largest consumer market, with more than 30 million people within 150 km (93 mi).
Hurdles to Overcome
Despite their success, these companies found that the existing tools and systems at Duisburg and the Kombi-Terminal were not positioning them for continued momentum.
KTL's Kombi-Terminal is the world's largest integrated chemical complex. It needed to keep pace with demand in a way that maximized the use of its footprint without disrupting its established operations. Manual load planning tied up substantial time and human resources. It was inflexible, particularly when trailers or trains did not arrive on time, and labor-intensive changes to the wagons' pin configuration were always unavoidable.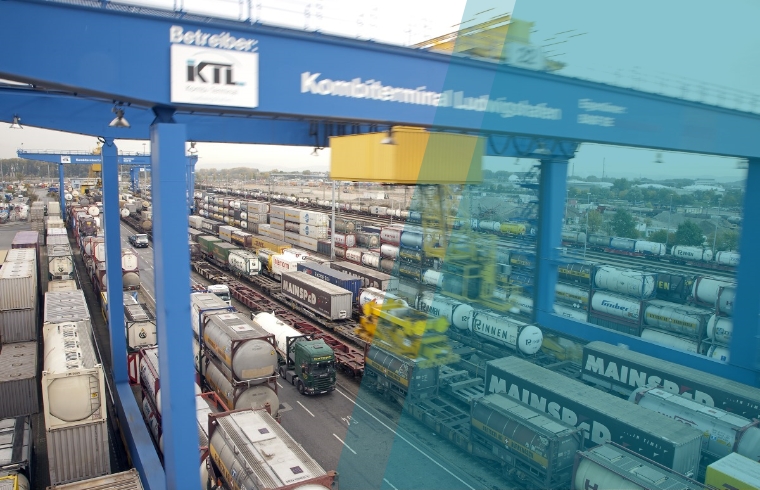 Samskip has aimed to expand volume passing through its Duisburg terminal from 110,000 to 200,000 units within two to three years. Its operations management relied on a system that wasn't a TOS at all, but a transport management system with some TOS functionality. The system required too many processes to be completed manually, impeding growth and efficiency.
It was time for a more advanced alternative. In both cases, it was clear that optimizing the workflow with innovative software and a user-friendly interface was the key.
A Smart Solution
Upgrading to a new TOS is an ambitious undertaking for any terminal operator. The two terminals needed a TOS from a company with a proven track record. Although their expansion plans were confronted by different obstacles, the INFORM solution was sufficiently versatile to streamline them both. At the same time, it was customized to meet each terminal's specific needs with a smooth transition from the old operating method to the new one.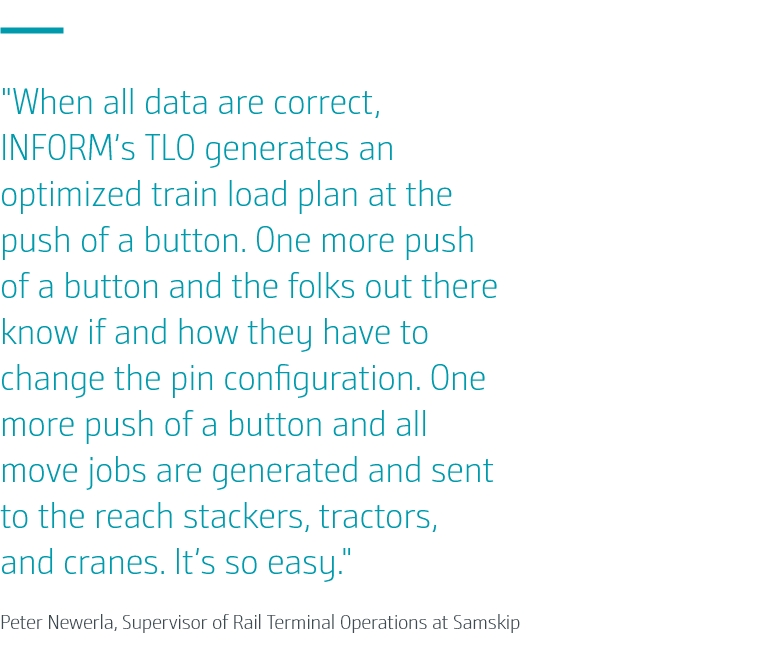 The terminals received not only a full-blown, state-of-the-art TOS, but one with optimization modules powered by AI algorithms. INFORM's TOS automatically generates all work orders and provides full transparency into resources within the terminals. Converting these work orders into move jobs and assigning them to the most suitable resource (reach stacker, terminal truck, crane) is neither manual nor based on predefined business rules. Instead, INFORM's optimization modules make incredibly complex, time-critical decisions in real time, removing human error from the assignment formula and allowing control room operators to focus on exception handling and customer service.
What does this mean in practice? In both terminals, each truck driver gets an optimized sequence of pick-up/drop-off points within the terminal; each container and trailer are assigned an optimized storing position in the yard or staging area; each equipment operator receives optimized instructions on what and where to move next—again, all in real-time.
Optimization Drives Impressive Results
The difference in the terminals' operations was striking. One of the most immediate changes was an end to long wait times for trucks at the gate. "Our goal was to reduce the average truck turnaround time," said Peter Newerla, Supervisor of Rail Terminal Operations at Samskip. "We're now below 30 minutes, often hitting a record-breaking 16 minutes."
Kai Rauprich, Deputy Operations Manager at KTL, noted a similar improvement: "The combination of self-check-in kiosks with OCR cameras at the entrance gate and INFORM's Truck Scheduler and Vehicle Optimizer within the terminal are capable of providing unprecedented speed and high quality of service to our customers."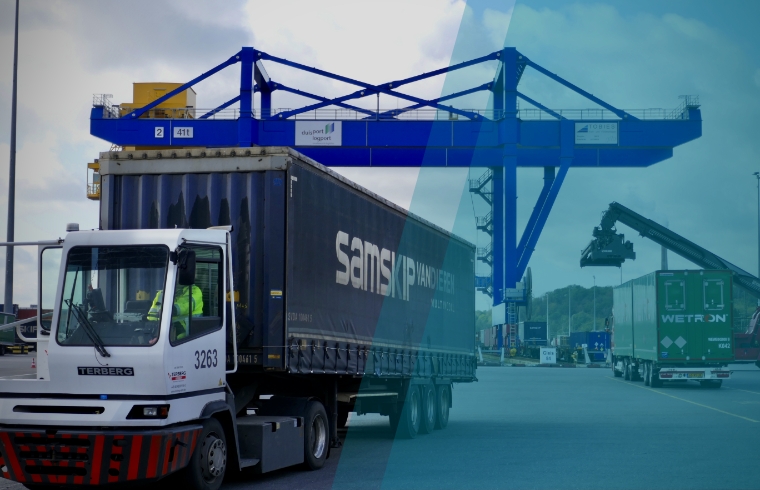 Train load planning and container tracking were also optimized. "When all data are correct, INFORM's Train Load Optimizer (TLO) generates an optimized train load plan at the push of a button," rejoices Newerla. "One more push of a button and the folks out there know if and how they have to change the pin configuration. One more push of a button and all move jobs are generated and sent to the reach stackers, tractors, and cranes. It's so easy."
Readiness for the Future
Rauprich recalls, "In the past, we had to check up to four different systems to track a single container. Now it's all in one system, providing 360-degree visibility into our business." But the transformation didn't stop there. The new TOS included billing and analytical tools for a complete modernization of the terminal's operations.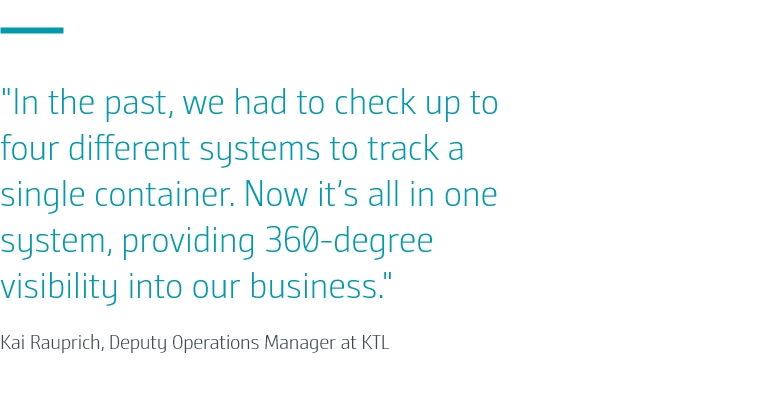 INFORM's solution is flexible enough to scale as Samskip and KTL expand, and INFORM's close cooperation ensures that further system releases and enhancements prepare the terminals for any situation they will encounter down the road.
Do you have an intermodal terminal that could benefit from a purpose-built Intermodal TOS? Find out more here.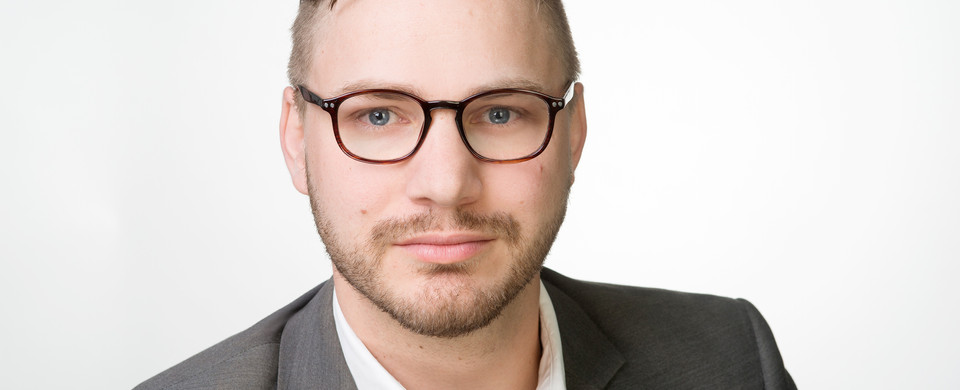 Matthew Wittemeier
Matthew Wittemeier is Director Marketing and Sales at INFORM's Terminal & Distribution Center Logistics Division where he's become a thought-provoking contributor to many industry publications and conferences. He's also co-author of the award winning 2038: A Smart Port Story - a story about the future of technology and the social challenges it may bring.