inform blog
SANTA CLAUS SENDS YOU TIPS FOR A SMART FACTORY
12/11/2018 Björn Heinen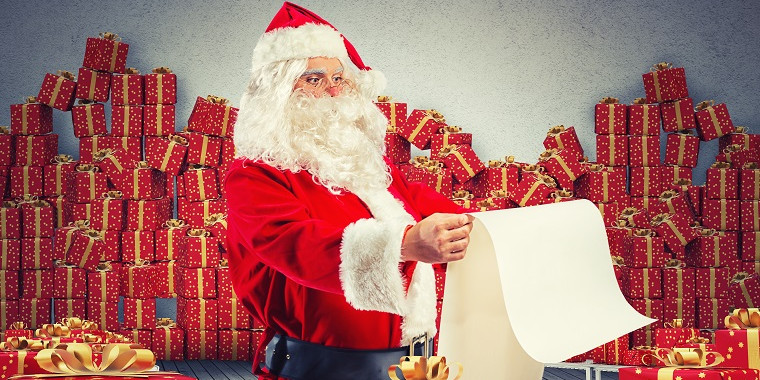 As everyone knows, Santa Claus performs logistical masterpieces every year. He is a specialist on organization: Billions of gifts have to reach most of the 194 countries worldwide at the right time in the Christmas season. His efficiency and fast planning serves as a great example to all logisticians, particularly in manufacturing companies, where efficiency and speed often suffer from outdated routines and unexpected disruptions such as urgently needed material or late deliveries.
But thanks to Santa's good nature, he won't be leaving anyone empty-handed or alone during the Christmas chaos. In this blog, I pass along his helpful efficiency tips for those responsible for material handling, to make your daily work easier and more profitable. The aim is to create smart, networked factories worldwide. Santa Claus is not quite selfless – if we knew all of his secrets the global production of gifts and their transport around the world would, of course, be much faster. Here are two important exclusive tips for intelligently controlled transports in material handling:
1) Use cloud solutions and Artificial Intelligence
Santa Claus is of course up to date with all the latest innovative technologies since they are on the top of people's wish lists around the world. He knows which trend has proven itself over the years and can confirm the validity of trend in cloud solutions. Over the years, the technology has overcome its first obstacles around data security and can now move securely into factories successfully and without any problems. With the help of the cloud, machines, robots, tools and people can be connected for a holistic approach in material handling. The data helps to guarantee reliable and fast decision-making and transport processes.
With the help of Artificial Intelligence, the transport orders can be planned in such a way that the journeys can be carried out as efficiently as possible with the appropriate vehicles. A cloud-based AI algorithm enables real-time routing and planning that considers multiple pickup and delivery locations, order priorities, due dates, load types and vehicle capacities.
2) Plan your material handling from your smartphone
Increase productivity and reduce stress with easy-to-integrate monitoring tools and intuitive technology that you can access from your mobile devices. Calling, phones and radios are a thing of the past. Santa knows that too. On December 23, 2017 alone, 48% of Christmas wishes (online purchases) were made via smartphones. Not surprising - they are handy and intuitive for users – in online shopping just like in material handling. This pays off when planning your internal transports. Those who follow Santa's tips can expect to see the following advantages.
Benefits
There are many benefits to adopting innovative technologies this Christmas.
Reduced transport costs
Minimized fleet size
Ensure 100% punctual delivery with minimized empty runs
Closing Thoughts
Santa Claus knows how to plan transports quickly and efficiently. That's why he can give good tips to responsible planners in material handling. Intelligent technologies such as cloud solutions, Artificial Intelligence and mobile devices are a decisive factor in benefiting from the many advantages of intelligent planning. Santa Claus has many helpers every year, but in material handling you only need these two tips to save mileage, minimize fleet size and assure on-time delivery.
Wishing everyone a smart factory and a very merry Christmas!
Björn Heinen
Björn Heinen has worked at INFORM since 2017 in data science. As Lead Data Scientist, he deals with both internal projects, in which existing INFORM products are extended by Machine Learning functionalities, and external projects, which he manages from development to implementation and integration.