inform blog
SHARING IS CARING – AND ALSO THE FUTURE OF LOGISTICS
03/02/2016 Michael Schwemmle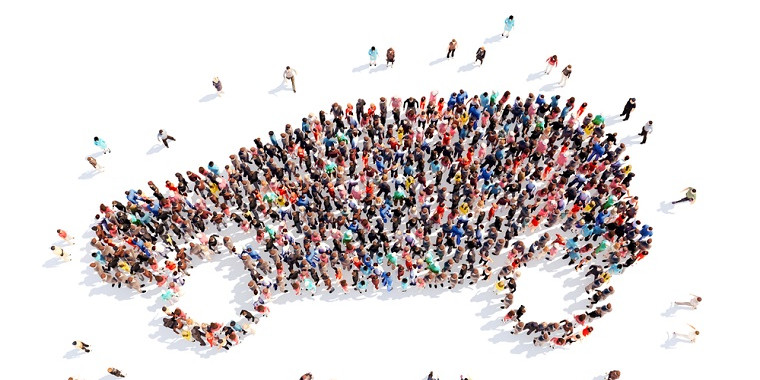 Monday Feb. 25, 2019, 6:42 am – the alarm is going off. Much too early considering I planned on waking up at 7:00 am. A sleepy glance at the display turns what was first anger about the shortened sleeping time into the satisfaction of a born optimizer. If I get up now, I can save 30 minutes on my way to work. Why? An intelligent data-based system adjusted my morning alarm so that my car sharing partner can pick me up directly at my front door right when I need to head out. The software worked out the best possible time savings for my daily trip to work based on different data such as traffic volume and weather forecasts and sent it to my smart phone. Additionally, my personal preferences and habits are always part of the planning: daily rituals like my stop at the bakery next door to grab coffee are included in the system´s planning.
Arriving on schedule at the office, I can directly go to my team meeting. The meeting is scheduled based on the arriving times of all participants. A confirmation is necessary to ensure that everybody will really appear at the meeting. Otherwise the system quickly re-plans the meeting at the soonest possible time – time efficiency at the highest level. Only one disadvantage for me; I have to get up NOW. However, I am better off than my colleague Thomas, who attended a party last night. His personal "healthcare assistant" – a part of the overall system – advised him a few minutes ago to take the train instead of driving his car. Still wanting to go to the gym after coming home from work: the "group scheduling assistant" notifies me that I have to pick him up this evening through the car sharing app.
This vision may seem exaggerated, but still underlines what intelligent systems may be able to accomplish in the future. In my opinion, the car sharing model can change many sectors. The idea of improving the mobility in urban regions by the availability and the joint usage of vehicles is already real – although expandable.
A closer look reveals almost unlimited ideas and models pushing the principle of sharing.
The present day
This sharing concept isn't just limited to cars. Machines, plants, tools, etc. could be used collectively and allocated in an intelligently organized user pool. Appropriate online planning platforms would enable the quick and easy access to the resources.
Taking car sharing a step further, there are already concepts in place to allow cars that aren't currently being used by their owners to be booked by others. For example, Daimler started the initiative "Car2Share Cargo", picking up this efficiency and sustainability thought. The company enables the automatic booking of vehicles per hour or even minutes on the platform. The driver can open the car with his smartphone without a complicated hand-over of keys. Then all deliveries are listed in the vehicle´s system. An intelligent software calculates the most efficient routes for all deliveries thanks to real-time navigation and consideration of the traffic situation.
Change is imminent
This example clarifies the change, not only passenger, but also goods transportation may undergo in the future. My vision comes close to an Uber for delivery – the online taxi dispatch service already started a similar service with Uber Rush.
In the near future, everyone driving regularly as commuters, for instance, could transport packages for a commission. New insurance models would be necessary but at the same time, transport exchange platforms could be built-up to be used flexibly and simply per online booking. I could, for example, pick up a few packages via chip card or access code at a fully automated packing station in Karlsruhe on a Sunday evening and drop them off four hours later at a packing station in Aachen or surrounding areas. The receiver can track his delivery per an appropriate tracking tool via email or another messaging service.
Optimistic outlook
Considering how many vehicles and small transporters are currently transporting only single persons or void volume, the idea does not just sound efficient but sustainable. Intelligent real-time planning and optimizing software could fundamentally change the current picture of cities. The introduction of autonomous cars may automate the private transport of goods and people completely.
Moreover, linking the systems would bring an additional benefit: Further intelligent software assistants know individual daily routines and integrate this information in the planning process. The optional combination of numerous transportation modes provide unforeseen possibilities: traveling by rental bicycle to the car sharing station – from there to the office and back home by bus or subway in the evening, then off to the gym with friends. Of course, on a time and cost efficient route, without cash per mobile account. Perhaps in the future, a driverless car will pick me up at my front door instead of my colleague – who knows?
What potential do you see in sharing models for companies and their logistics processes?
---------------------------------
This blog was originally posted on the All Things Supply Chain blog.