inform blog
3 Steps for More Efficient Communication in Shop Floor Management
02/07/2019 Stipo Nad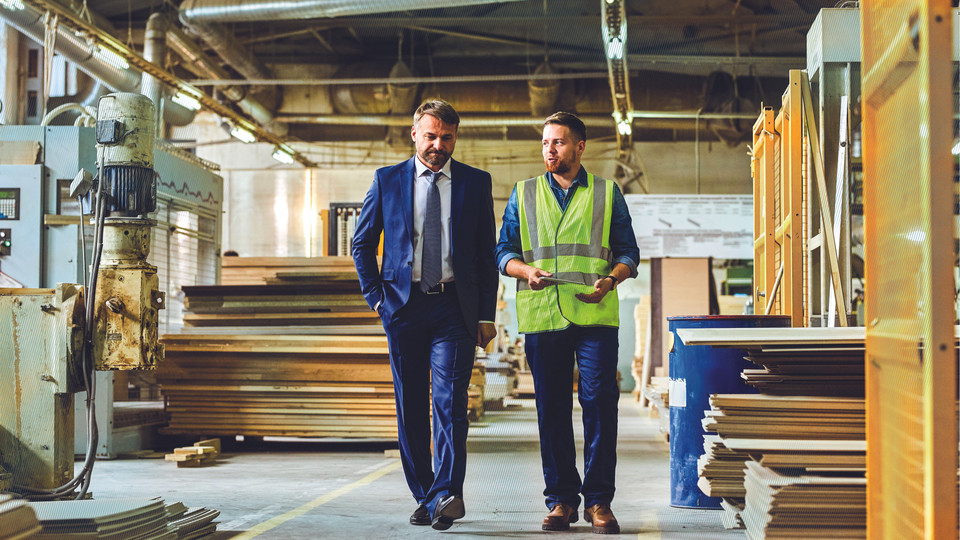 "We meet every morning on the shop floor" – while this may sound like a relaxed appointment to laypeople in the shopping center around the corner, it can have a very different meaning for managers and employees in machine and systems engineering. The shop floor is the "hall floor" and in this context not just a place in production. Shop floor management is a lean management concept with the aim of optimizing cooperation between employees and managers and continuously improving work processes.
The aim is to unite competencies at the point of value creation and thus achieve an increase in performance. The concept should help to develop leadership and an organization into a lean company. Meetings held directly at the value-added location can speed up decision-making processes and thus enable quicker reactions. For example, if an employee becomes ill, it can be decided directly on site where and which employee will be deployed - quickly and efficiently. In addition, resources can be better planned, and capabilities are identified more quickly. Overall, processes become more transparent and employees are motivated by a greater personal responsibility.
This all sounds very advantageous. But how should shop floor management be implemented in practice? And what are the best ways of approaching it, to ensure that a more targeted and successful implementation?
Shop floor management can bring about improved communication, and this is where the concept should start: with communication. In the following points, I describe a rough plan of how a successful introduction of shop floor management in production can work:
1) Rethinking processes and convincing employees
The introduction of a new shop floor management strategy should first be discussed with the employees, to clear up general doubts and distrust towards changes. Clearly list the advantages that are associated with the management principle. In shop floor management, it is more often those working in management that need convincing about new processes than the employees in production.
2) Preparing data
There is often a lack of transparency in production. With the introduction of shop floor management, relevant key figures such as backlogs or lead times should be made visible to everyone in production. To do this, all important data must first be merged and processed. Do you already have a production planning system in place that generates useful data? If not, you unfortunately have to go back a few steps and start with data acquisition. In order to establish continuous production control, all important influencing factors in production such as throughput times, residues, flow rate, degree of processing or bottlenecks should be measured.
Advanced Planning and Scheduling (APS) systems supply this data and use it to optimize the processes to create a smoothly functioning overall system. Shop floor management is based on this automated reporting. Efforts to prepare data graphically are considerably reduced by automation. In addition, the relevance of the data can be guaranteed without much manual effort or time expenditure. The essential key figures on the shop floor board include key figures on the quality of production such as rejects as well as target/actual deviations, employee deployment and qualification matrix, among other things.
3) Arrange a meeting
Get started and arrange times for daily meetings with all the specialists and managers involved for a regular, joint look at the key figures - preferably before the start of production. Shop floor management could be a good starting point for shift starts or shift handovers on site. The daily updated figures, actual and target states can be visualized clearly by a traffic light system. Using this system, problems can be identified directly, and solutions can be found during shop floor meetings. Above all, it is important to proceed in a structured manner in order to arrive at a sustainable solution.
Conclusion
The pressure to deliver high-quality products on schedule and at the same time to keep throughput times, residues and missing parts to a minimum is also increasing in machine and systems engineering. Shop floor management can help manufacturing companies achieve this goal together - through efficient communication between management and employees in production. For managers, this can often mean a major change. If a company wants to identify problems early and motivate its workforce, it could be as simple as rethinking its management processes.