INFORM Blog
Ai and Me - The future of technologically assisted decision making
08/15/2022 David Stolzenberger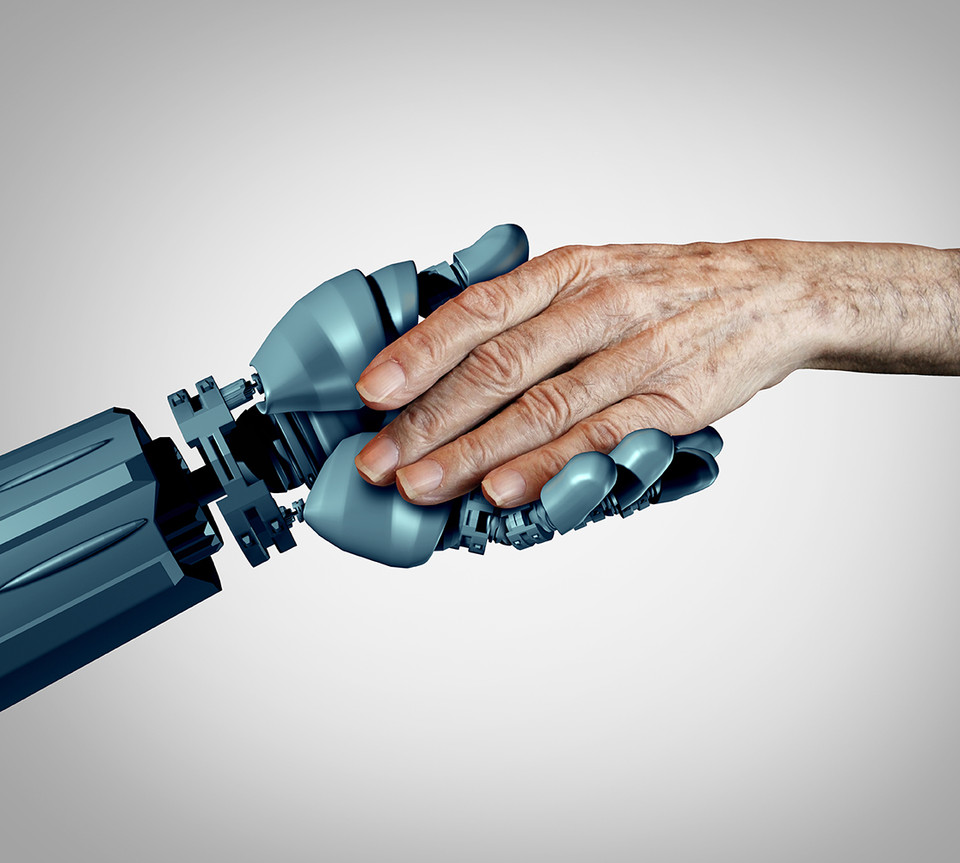 The conflict between the tried and tested and the new technology is something we encounter on a regular basis. Of course, the film industry also likes to take up this topos, such as in the indie film "Robot and Frank" from 2012. The once famous jewel thief and now a man with dementia, Frank - who does not want to know anything about the changing world - gets a household robot from his son, which is supposed to support him in everyday life. Frank initially resists this supposed help, because he would rather live in his old familiar world. However, Frank soon realizes that this robot can help him not only with housework and making dinner, but also with his former favorite pastime - stealing jewels. A true friendship develops between the two and they grow closer together.
Although the number of people who go on a jewel-stealing spree with their household robot is probably rather small, in recent years we have all been experiencing an entry of artificial intelligence into many areas of work that were previously organized in a more analog way.
Study on decision-making with AI
Just like Frank, after initial difficulties, recognizes the benefits of artificial intelligence for himself, there is also a change among managers and professionals regarding the acceptance of AI, which is moving more and more into everyday life. The exciting question is therefore:
Is real collaboration developing here? How will human intelligence and AI work together in the future?
This question was explored by the German consulting firm Kienbaum Consulting, together with the German platform for innovative organizational development ada. In the recently published study titled "Leadership in the Age of Technologically Assisted Decision-Making", 500 people, primarily executives, but also professionals who are confronted with technologically assisted decision-making in their daily work were surveyed. The respondents work in companies that have a turnover of up to two billion euros and employee numbers between 100 and 100,000. It should be emphasized that all respondents show an awareness regarding the responsibility for society, sustainability and ethics in dealing with artificial intelligence.
AI has strong strategic relevance
In general, it shouldn't come as a surprise that the current trend is toward the use of AI systems. Germany has long been considered outdated and trailing behind in terms of digitization. This became particularly clear in the wake of the Corona pandemic. The pressure generated by this gave impetus to corresponding systems. Today, AI is considered the most important technology of the future.
This trend is also confirmed by the study. Around two-thirds of the companies surveyed are already using AI systems. Around half state that the use of "technologically supported decision-making" is of "strong strategic relevance" to them to remain competitive.
Majority see decision-making autonomy at risk
Sixty percent of respondents see their decision-making autonomy being at risk in the future due to the use of AI. However, 45 percent said they would work "closely" with AI in the future if they retained ultimate decision-making authority. Seventeen percent of respondents are "fully willing" and another 47% are "somewhat willing" to let an AI take over decisions.
In an Interview with the German newspaper brandeins, Prof. Markus Giesler of the Schulich School of Business at York University in Toronto says companies should inhibit fear among employees by explaining how AI can improve collaboration, not which jobs will soon be a thing of the past. The fear that AI will replace humans is one of the biggest of our time, he said. It is about the fear of losing what makes us human - decision-making autonomy and individuality.
In general, people tend to listen to their gut feeling in risky or unknown situations. In the case of "unknown" AI, a rational approach would show that AI optimizes many processes and improves cooperation between humans and machines - instead of wiping out jobs.
AI: operational or strategic?
According to the results of the study, it remains unclear which decisions artificial intelligence will take over.
On the one hand, 32 percent of respondents said AI will make strategic and operational decisions. Another 30 percent said it should only handle strategic decisions. Fifty-three percent also said AI would be of "strong" relevance and 39 percent of "partial relevance." This result is surprising because AI is, in principle, far less suited to strategic decision-making than for operational challenges. Strategic decisions are usually based on complex contexts that are exceedingly difficult to cast into AI models.
On the other hand, 46 percent said that operational decisions will increasingly be made by AI and strategic decisions by humans.
Is it clear to say that AI will become increasingly integrated into our everyday lives. We can see that, whether in operational or strategic areas, AI will become more firmly established in German companies in the coming years.
But what do decisions look like in everyday life? Some German companies are already demonstrating what fundamental collaboration between AI and management level could look like.
2 forklifts - 3 billion possibilities
One application area where operational decisions can be efficiently taken over by AI is plant logistics. For example, when controlling forklifts, AI can decide which forklift should take which goods from A to B? In a plant with ten orders and two forklifts, there are more than three billion (10 factorial) possible sequences alone to use them optimally and effectively. A number that a dispatcher could not possibly weigh up to make the right decision. AI considers in this case many more parameters in its decisions than a human could keep track of. In addition, AI must consider hundreds of movements a day at the same time and be able to react quickly to unplanned changes. In such applications, artificial intelligence works to the benefit of employees, optimizing and facilitating their work.
Facilitate planning - strategic applied AI Helps
As mentioned earlier, strategic decision-making situations are often very complex and therefore extremely difficult to automate. However, AI can provide a valuable basis for decision-making. For example, sales planning is a process which tends to be set for the medium term and where the individual planner must make decisions for the next days, weeks or months from a variety of data from production, sales or management in different dimensions (e.g., countries, plants or product groups). AI can help here with appropriate forecasting models to identify trends at an early stage and adjust planning accordingly. With the help of machine learning methods, external influences such as weather dependencies in the sale of certain foods (such as grilled sausages on scorching summer days) can also be calculated much more accurately than one's own gut feeling.
Working with AI is essential
The study conducted by Kienbaum and ada suggests that executives have understood that working with AI is inevitable today and in the future. Artificial intelligence at the right scale can assist them with and improve many of their processes and decisions.
Unlike Frank the jewel thief, executives are not enriching themselves with gems. Rather, the jewels are comparable to the results of agile process optimization: Making decisions faster and better at the same time - always in collaboration with AI.
But the study also showed: Humans still want to be the final decision-making authority, and that certainly makes sense in most cases. The question of the responsibility of a decision is - and not only because of ambitious projects such as autonomous driving - a extremely complex one that will have to be discussed socially in the coming years.
How do you feel about AI?
Do you deal with AI in your everyday life and what decisions would you leave to a machine and what would you always want to decide yourself?
David Stolzenberger
David Stolzenberger worked in marketing and business development at INFORM between April 2022 and August 2022. He was specifically involved with the topics of vehicle logistics, project and product management, and artificial intelligence.
All Posts