INFORM NEWS
Swiss Post continues expansion of INFORM's yard management system
06/29/2023
Swiss Post has decided to continue its expansion of INFORM's yard management system as it looks to reconfigure part of its existing letter center in Härkingen into a regional parcel center to accommodate increasing parcel volumes.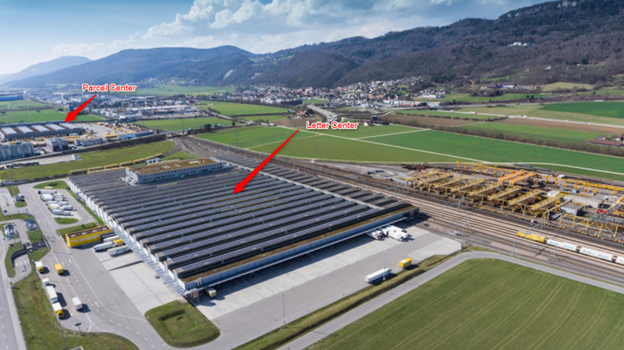 Image Source: Swiss Post
The selection of INFORM's Syncrotess Yard Management System (YMS) at Swiss Post's newly planned Härkingen parcel center marks the fifth deployment of the YMS within the Swiss Post network of parcel distribution centers and closely follows the selection of INFORM for their Pratteln regional parcel center earlier this year. The Härkingen site is scheduled to go live in 2023.
Dr. Eva Savelsberg, SVP of INFORM's Terminal & Distribution Center Logistics Division, said, "We continue to prove value to one of our oldest customers through innovation and exceptional customer service. Swiss Post's continued business with INFORM in a market of ample alternatives highlights the value our YMS brings to their national parcel operations."
The software solution will be delivered to Swiss Post's newly planned regional parcel center in Härkingen, Switzerland, which is approximately 58 km (36 miles) away from Bern. The new facility has some unique characteristics, which the Syncrotess YMS will be accounting for in its configuration.
Dr. Ingo Marko, Senior Consultant and Project Manager for INFORM's Terminal & Distribution Center Logistics Division, said, "Unlike most other Swiss Post sites, the Härkingen site will only be handling road transports, and the site's loading and unloading docks will be mutually used by both the letter center and regional parcel center."
"This mutual use requires special attention within the software and how dock door availability and usage are communicated to the internal center. Displays in the building at dock doors will indicate which center – letter or parcel – the dock is currently assigned to," he added.
"In addition, shunting operations will also be shared between the existing parcel center and the new regional parcel center. When starting a shift, shunter drivers will indicate which 'center' they are working at to ensure they connect to the correct system for shunting instructions." he added.
INFORM's YMS has been purpose-built from the ground up to service post and parcel operators as well as distribution centers globally. At its core, INFORM's powerful optimization engine helps to ensure that all areas of yard management are running smoothly and efficiently, from storage area utilization and dock door allocation to internal vehicle move orders. With the ability to run as a decision support tool or a fully automated decision-making AI system, the YMS leads the industry in both optimization and automation capabilities.
INFORM specializes in AI and optimization software to improve operational decision-making. Based in Aachen, Germany, the company has been in the optimization business for 50 years and serves a wide span of logistics industries, including distribution centers as well as post and parcel operators. With a broad range of standalone and add-on software modules, INFORM's unique blend of algorithmic-based software expertise, rich industry experience, and "big-world thinking" delivers enormous value for their customers.