inform blog
UNORGANIZED INTERNAL LOGISTICS COSTS MONEY - AND NERVES
10/10/2017 Luisa Walendy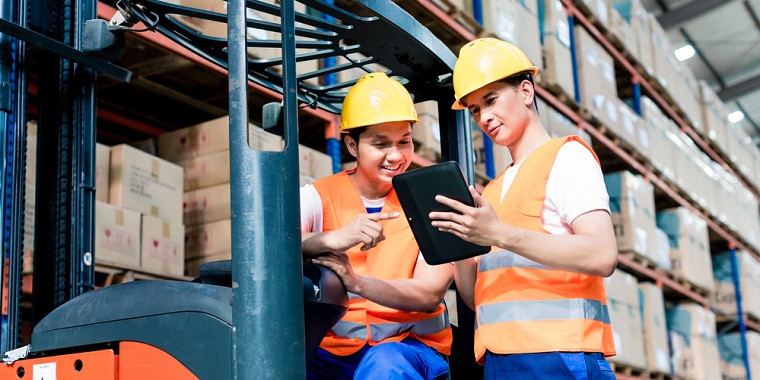 The organization of internal transports has its own character. After all, transport orders are not reliably scheduled, but usually spontaneously scheduled. In addition, several criteria, such as distances, order priorities, deadlines or loading capacities must be taken into account in the transport instructions. This complexity of planning can quickly push an experienced dispatcher to the limit. But also, the superior's nerves are often on edge, because halting factory traffic equals costs. And high but avoidable costs are a dreaded combination. This article will discuss the roots of these costs and how to best reduce or avoid them.
The production is delayed
The primary goal of the organization of internal transports in manufacturing companies is a secure and timely production supply. If delivery dates are not met and are postponed, this can quickly lead to high costs. Punitive payments for late deliveries are not uncommon in industries such as mechanical engineering and plant construction, and angry customers also result in a loss of sales in the long run.
For this reason, the transports from goods receipt to the start of production should be intelligently controlled, so that on-schedule production is ensured, which in turn ensures satisfied customers. An intelligent transport control system can guarantee a reliable production supply through real-time control and material tracking. All relevant information for controlling and monitoring resources and transport orders is summarized transparently. Using mathematical algorithms based on Operations Research and Fuzzy Logic, such a system can determine an optimal combination of orders and resources and synchronize the logistical processes with ongoing production.
Empty journeys are expensive
In this way, transport is organized as efficiently as possible and costs are kept to a minimum. This means that, the use of transport vehicles such as forklifts, tractors or route trains, as well as the control of transport equipment, for example trailers or containers, are coordinated with each other. Since intelligent planning optimally allocates transport orders to the most suitable driver, the proportion of empty journeys can be significantly reduced in each case. As a result, higher efficiency in transport handling and a minimized use of resources are achieved.
Shy away from costs, but not from digitalization
"Logistics is changing dramatically and very quickly," Bitkom CEO Bernhard Rohleder said recently. From the point of view of the industry association, the world of logistics should look completely different within ten years from what it does today. Whether it is autonomous drones, data glasses or robots in the warehouse - the transport world will change at a much higher speed than before, according to a Bitkom study. The study also supports the statement: Costs are not the problem of digitalization, but rather ignoring how the path towards digitalization will start.
In the opinion of the companies surveyed, digitized logistics primarily helps to reduce costs, speed up transports and reduce the susceptibility to errors in the transport chain. And it is precisely these advantages that digitalization also supports in internal logistics. Here, intelligent transport control systems ensure digitized processes in transport execution. The intelligent use of transport processes and human resources can be calculated by software systems and their algorithms in such a way that the routes of vehicles are as short and efficient as possible, and all important criteria such as delivery dates or loading capacity are taken into account. The dispatcher no longer has to waste lots of time with manual planning and can instead be devoted to other tasks.
Conclusion
Intelligent systems in internal logistics digitize the transport processes. Due to the high complexity of various basic conditions such as distances, order priorities or deadlines, smooth transportation scheduling for employees can rarely be manually implemented. Digitalization makes the complex logistical processes much simpler, more transparent and comprehensible.
In this way, companies can have complete control of their internal material flow from the ramp to the assembly line - dynamically and in real time. This results in competitive advantages for manufacturing companies. But above all, intelligent transport control reduces the costs that would otherwise result from empty runs, postponements and long lead times. A fully automatic and continuous control of the internal supply chain is made possible, and neither dispatchers nor the management level have to be afraid of high internal transport costs.
What are some of your challenges in in-house logistics? Do you already digitize the transport processes?