Success story
Coca-Cola HBC austria: Fully Automated yard­management with measurable success
Coca-Cola HBC Austria is the local bottling partner for the Coca-Cola brand. The bottling plant in Edelstal, Burgenland, produces the majority of Coca-Cola beverages sold in Austria, as well as other brands.
Up to 250 trucks transport the products from the site to the cities as well as to the remotest regions of the country. The complex process of deliveries and pick-ups requires a lot of planning and a large number of resources, such as trucks, forklifts and people. These need to be used only where they are really needed.

Winner of
the Austrian Logistics Award 2021
Coca-Cola HBC Austria has won the Austrian Logistics Award 2021 for its "Automated Yard Management" project. The expert jury was convinced by the efficient end-to-end overall process in the yard. Thanks to optimisation algorithms for truck control and handling, throughput times have been reduced by 45%. Various real-time parameters such as punctuality, load preparation status, remaining steering time or the loading progress are taken into account.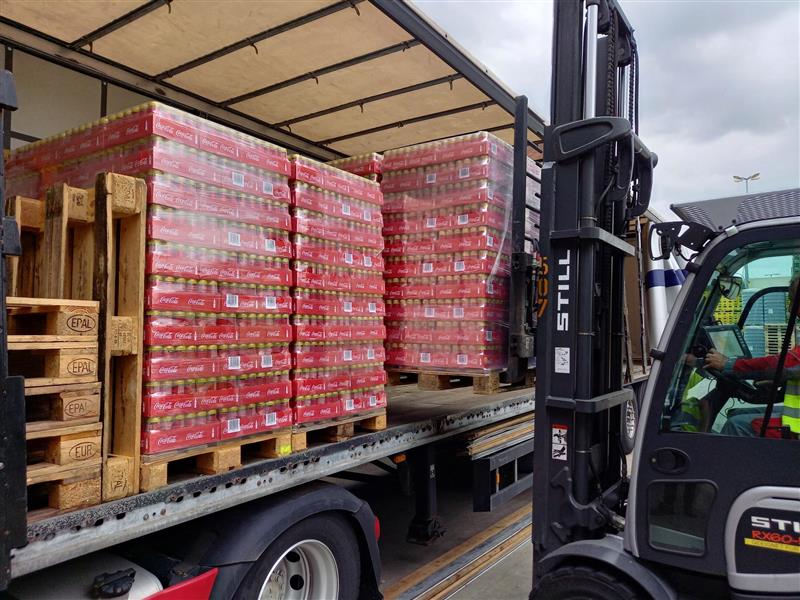 With that amount of inbound and outbound deliveries, yard management poses a major challenge. Every single truck has to be checked, weighed and navigated through the yard. A consistent workload at the loading stations has to be ensured to avoid additional waiting times and queues in front of and on the premises.
While the progress of automation in the production and warehouse of the plant was already very advanced, digitalization on the yard was obsolete. This intelligent solution includes a time slot booking portal, which enables carriers to perform their bookings for several customers via one central platform.
In addition, SYNCROSUPPLY has several controlling functions from the yard entry to the ramp that can coordinate the entire truck flow. The software is able to calculate optimized sequences and quickly reorganize the whole process in case of unpredicted disruptions.
As an add-on, Coca-Cola HBC Austria also uses an app that supports the truck drivers and intelligently manages the yard logistics. The forklift drivers can document every single step in a lean way via the app, transmit status updates by the push of a button, and add annotations.
MEASURABLE SUCCESS
Reduced Gate-to-Gate time by 45%
Increased accuracy of on-time completion to 85%
Reduced and optimized required loading point resources
Improved safety and health standards
Download - the whole Story